You are currently browsing the category archive for the 'Christmas' category.
These are a few pics of some of the gifts we're giving. Cookies got decorated, and the paper has been painted.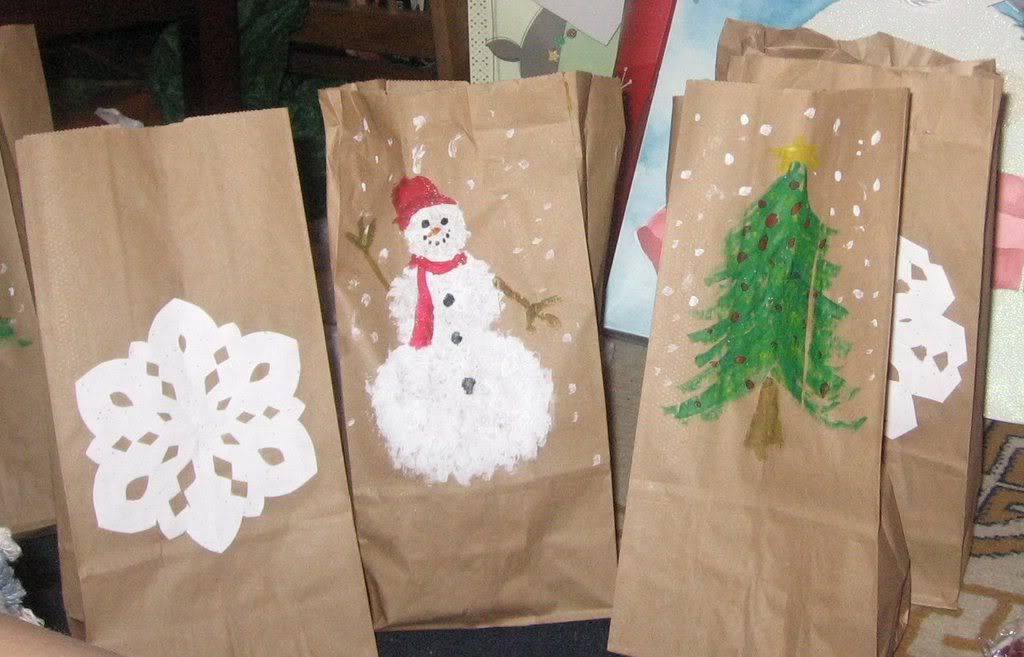 The tart's attempts at construction ended up working. It wasn't going well at first, the housing authorities got rather upset after the walls ended up smushed under the roof more than once, but there's no proof of that in pictures.
… and all through the house, it fell down. Twice. Apparently the icing I chose wasn't the right stickiness to keep the gingerbread house together. There's aren't any pics yet of what I've gotten done, mainly because I haven't had time to take any. The tart will try to get some tonight, to put them up for some feeling of success. It feels very frustrating right now, but that's probably temporary and things will feel very nice again Tuesday.
Today's accomplishments as far as the gift bags go. Gonna be updating this as the day goes on, with pictures if I can get them.
Banana Bread is in the oven.
The visit was really fun! There was much gift giving, snacking, and nothing I cooked went south. The house looked beautiful, the mom raved about it, and all in all it was a really good time. The whole time it seemed like we were either eating or laughing, and that's how it should be.
It's time to get to work on the new gift bags now, and I won't say that I'm not looking forward to it. Been learning so much getting these done, and that's more valuable than any other gift I could get. This idea of making a business may work yet, if people like what I do.