You are currently browsing the category archive for the 'chocolate' category.
Ain't never been much for big events, a little celebration at home with the people I love has alwacy been the best sounding thing I can think of. It should come as no surprise that's how my 34th B-Day was, and I loved it (the firt part, the second part is next weekend when mom and me celebrate the halfway point between her b-day and mine together)!
The day began with D running out to get us breakfast from Perkins. Y'all, ain't anything but the eggs on this plate that I would usually allow in the house. What hick chick could say no to a smoked ham steak and fried potatoes and eggs over easy? The muffin that came with the breakfast was the biggest muffin I've ever seen, raspberry cream and topped with sugar. The pics of the muffin ain't posted because it seems Pi managed to get a few cat hairs on it. Y'all with pets know that you end up eating fur, but there ain't no reason to go showing it up close.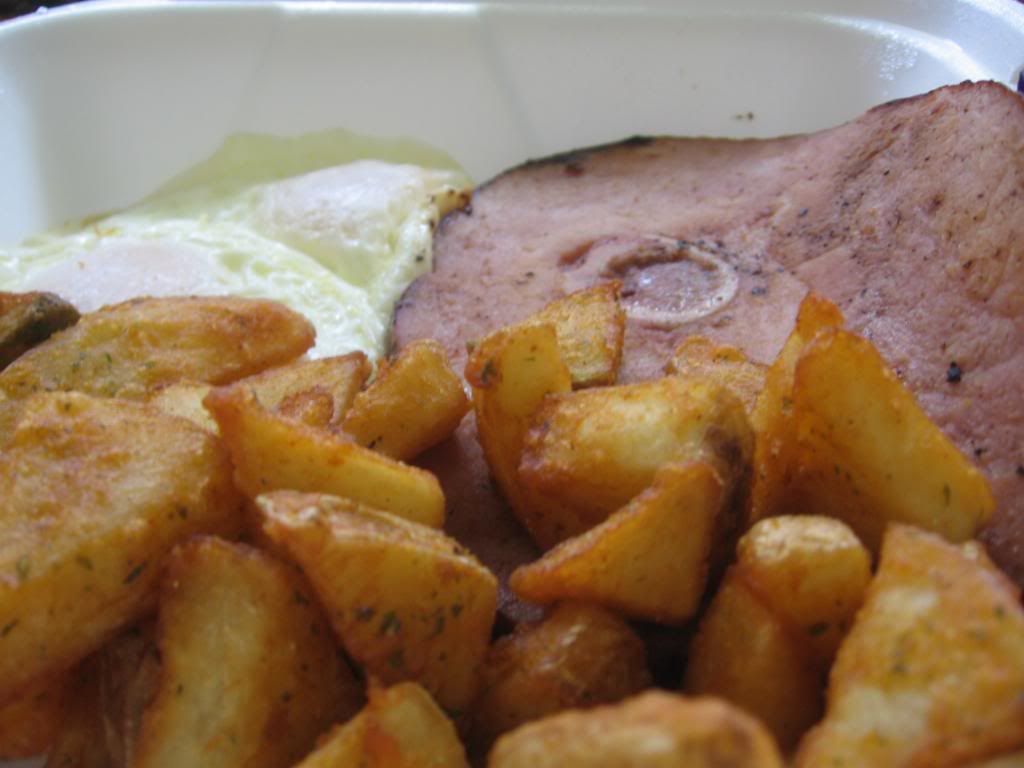 Supper was slap your g-ma good (sorry g-ma). The soup is by Peabody and the recipe is here, try it. It was some of the best soup I've ever had, and D and his mom loved it! Ain't neither of them like bleu cheee at all, so I changed the cheese to Havarti and it worked perfectly.
The salad won't nothing to brag about, some greens and red onions and walnuts. There ain't no lying about it, I was in a hurry and the salad suffered from neglect. There were radishes, but I forgot the tomatoes.
The steak and shrimp were both marinated, the steak in olive oil and liquid smoke and garlic and brown sugar and the shrimp in lime juice and garlic and basil and water. They were both perfect, and the shrimp had a butter sauce with basil and parsley brushed on it before it was put on the plates (the basil and parsley was from my garden). Dorie's brioche dough made little rich rolls!
Yes, the name on the cake is right. D likes to run my first and middles names together to call me Shalei (shay-LEE) because he thinks it's cute, and I can't help but agree. When the cake was chosen, I wanted the pig cake I found in the Baskin Robbins book. D found out that the pig was an ice cream coop on a cookie, so he had tem put the pig on top of a Neopolitan ice cream and chocolate cake ice cream cake! Before y'all ask, no I didn't share the pig. Oink.
There were pig calls practiced.
After supper, D's mom gave me a few presents from her and they're so nice! A family of primitive art sheep, and a cake tand with a cover that reverses to make a dip tray and a punch bowl. Y'all will have to see pics, it's so neat!
D and me played WoW all night, and stayed up way too late and ate ice cream like little kids. He's the perfect man for me, and it was the best B-Day ever!
True fact : this post took a while to write because I'm watching a rodeo. Love them!
Is it legal to elope with cake? Do you have to have written permission from the cookbook authoress? Y'all, I ain't got a clue what I did wrong but these never did gooey centers for me. The cakes were so good neither D or me really cared, but I wanted lava cakes. The obvious suspect is my oven, it ain't working right at all and might have changed the temp a few times to be pissy.
 They're so cute in their little tin!
Y'all can see the chocolate is on top like it's supposed to be, but this next pic shows what happened to it. Didn't sink a bit, stayed right up on top and got gooey there. Next time I wanna try pushing it down a little, the cupcake tines were very shallow and it's likely I chopped the chocolate too fine. Do y'all think it would work with dark chocolate chips instead of chopped? These were so goo that if I have to bake them a few thousand moe times to get it right, D and me ain't planning on objecting to it.
What to do when they ain't gooey on the inside? Pour some chocolate over the outside! They came out like a really fudgey brownie, and I can't tell y'all how happy that makes me. They're as good the next day at room temp! They don't even upset your tummy if you end up devouring one for breakfast because they're irresistible all cute and small.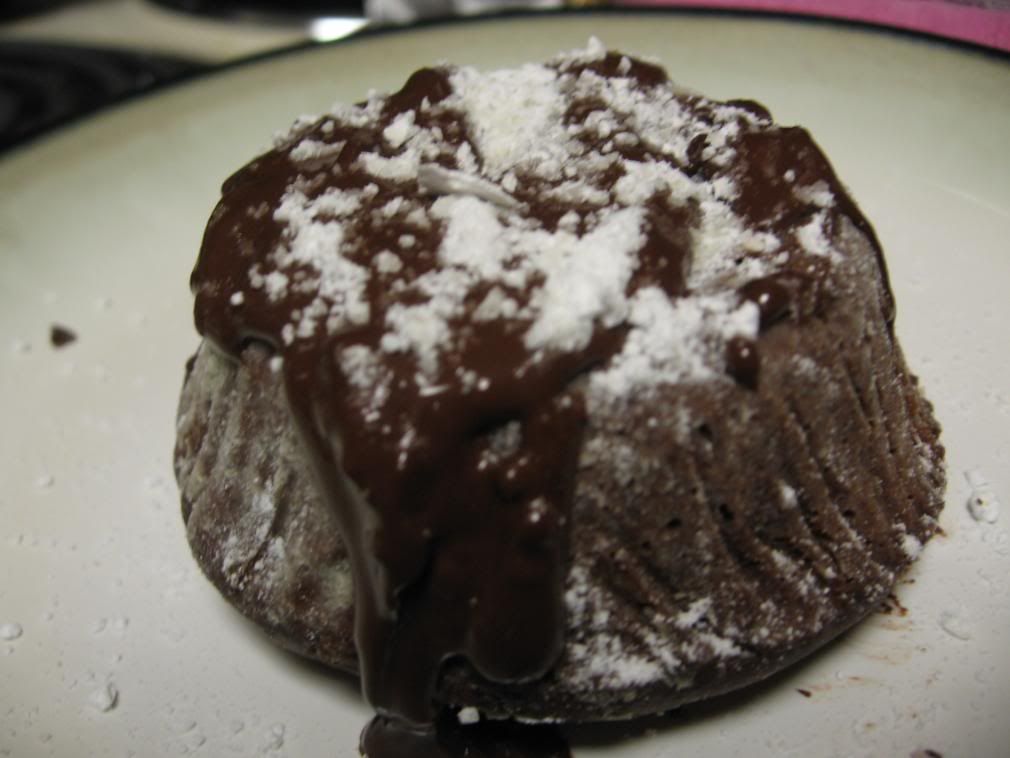 This is the chicken stew so good it's worth eating before dessert.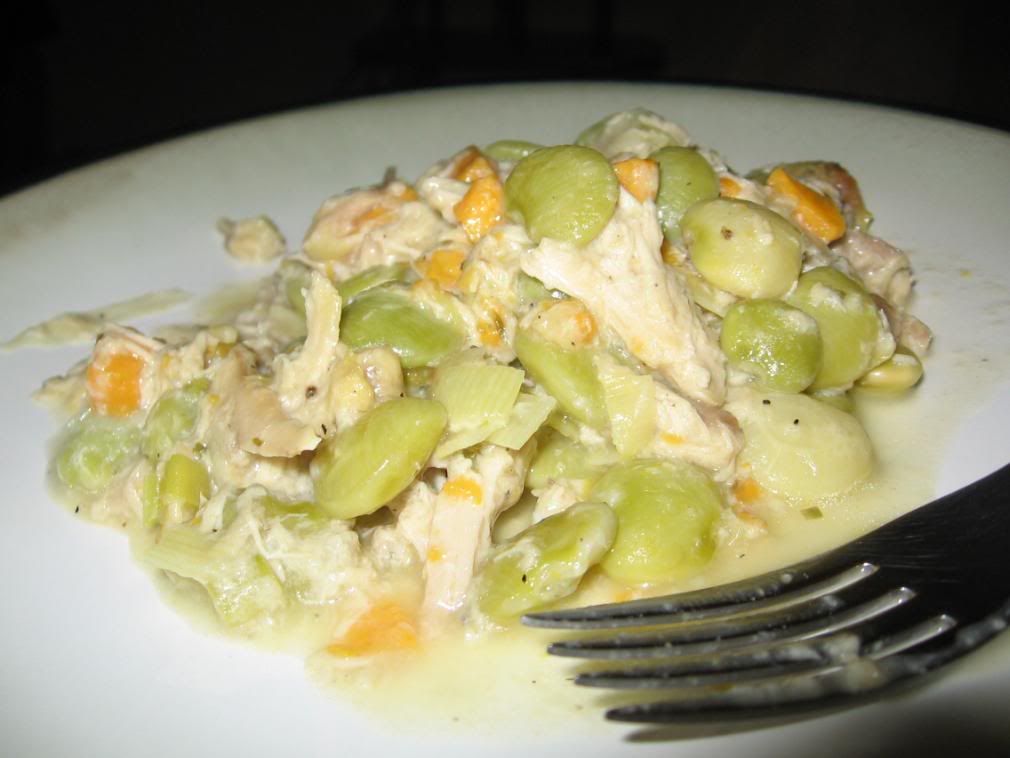 Gooey Chocolate Cake
1/3 cup all-purpose flour
3 tablespoons unsweetened cocoa powder
¼ teaspoon salt
5 ounces bittersweet chocolate,
 4 ounces coarsely chopped,
 1 ounce very finely chopped
1 stick (8 tablespoons) unsalted butter, cut into 8 pieces
2 large eggs, at room temperature
1 large egg yolk, at room temperature
6 tablespoons of sugar
Getting ready: Center a rack in the oven and preheat the oven to 400 degrees F. butter (or spray – it's easier) 6 cups of a regular-size muffin pan, preferably a disposable aluminum foil pan, dust the insides with flour and tap out the excess. Put the muffin pan on a baking sheet.
 Sift the flour, cocoa and salt together.
 Set a heatproof bowl over a saucepan of gently simmering water, put the coarsely chopped chocolate and the butter in the bowl and stir occasionally over the simmering water just until they are melted – you don't want them to get so hot that the butter separates. Remove the bowl from the pan of water.
 In a large bowl, whisk the eggs and yolk until homogeneous. Add the sugar and whisk until well blended, about 2 minutes. Add the dry ingredients and, still using the whisk, stir (don't beat) them into the eggs. Little by little, and using a light hand, stir in the melted chocolate and butter. Divide the batter evenly among the muffin cups and sprinkle the finely chopped chocolate over the batter.
 Bake the cakes for 13 minutes. Transfer them, still on the baking sheet, to a rack to cool for 3 minutes. (There is no way to test that these cakes are properly baked, because the inside remains liquid.)
 Line a cutting board with a silicone baking mat or parchment or wax paper, and, after the 3-minute rest, unmold the cakes onto the board. Use a wide metal spatula to lift the cakes onto dessert plates.
Last week, D came home from a doc's visit and put some papers in front of me. The doctor had put him on a restricted fat and calorie diet, 2000 calories and 40 g of fat a day. Y'all will forgive me if I ain't doing the happy dance, but there's no sense in whining about what is and to be honest I could stand to lose a few pounds. Right, there's baking to be done and I ain't gonna let this stand in the way of tasty food! Master Baker has declared cinnamon is the thing to use, and I give you the Cinnamon Pear Crumble. Its really simple, the crumble recipe is from Ellie Krieger (which shouldn't surprise anybody) and the chocolate and cinnamon is my addition. Y'all would not believe the difference the chocolate makes. It turned it from a regular crumble to something I've been eating non stop.
Pear Cinnamon Crumble With Dark Chocolate
The topping
1/4 c. oat flour or whole wheat flour
2/3 c. old fashioned rolled oats
1/2 c. firmly packed brown sugar
1 tsp. ground cinnamon
1/8 tsp. salt
1/4 c. canola oil
6 oz. bittersweet chocolate
For the filling
3 lbs. firm but ripe pears, peeled, cored, and cut into 1/4 inch thick slices
1 tbls. fresh lemon juice
1 tbls. cinnamon
2 tbls. granulated sugar
Preheat the oven to 375 F.
Combine the topping ingredients is a medium bowl and work them together with a fork or your fingertips until uniformly moistened.
To make the filling, combine the pear slices, lemon juice, and cinnamon in a large bowl. Add the granulated sugar and toss to blend.
To assemble, coat an 8 inch square baking dish with cooking spray. Transfer the pear mixture to the dish. Sprinkle the topping evenly over the pears. Bake the crumble until the pears are fork tender and the topping is golden brown, about 40 minutes. Let cool while you melt the dark chocolate, and pour the chocolate into a small pastry bag or sandwich bag with a clipped tip. Pipe the chocolate over the crumble.
Oh y'all. What can a girl say when a recipe like this gets chosen but that? The more people talked about it, the more I was almost jumping out of my chair to make it! Around here, we wait until Saturdays for the baking (that way I can unload leftovers on people at the Saturday family dinner), but this one almost made me break my rule! A few people said the cake was too dark, and that this household drool even more.
Saturday took it's sweet time getting here, but that morning I was ready to get to work.
Aint got a double boiler, but a metal bowl on top of a sauce pan worked fine. This part was so easy, I mixed it with running outside a few times to watch D try to wrestle an old push lawn mower into submission. It was good timing! Got to try to push it around, but any real work was gotten out of by pointing out my chocolate was gonna burn.
Ain't this neat? Who knew folding egg whites into chocolate would look like pics from the Hubble telescope? This is even better than the Milky Way!
This cake was so fun to make. Ain't a bit harder than an average ol' cake you throw in quick for unexpected company, and it came together so nicely you could. Ain't a person that would be disappointed to be served this either (unless they're one of those odd people who don't like chocolate, but we don't talk about them in polite company), and it's sure to get you lots of compliments.
Tried to make my first ganache for this one, and it couldn't have been simpler. A little hot cream over some chopped up chocolate did the trick, we didn't have any corn syrup for the glaze Dorie had and I ain't partial to corn syrup.
The neighbours are convinced I'm odd, as well as the pierced and eyeliner caked teenage boy who wandered by as I was crouched down in the front lawn taking pics. Ain't it pretty? The reflections of light made me feel like I had done something right.
Here's a few pics of the crumb. It was dense, but I didn't think it was as dense as some of the other people were saying. D declared it similar to a really good brownie, and I agreed. That's high praise around here.
Almost-Fudge Gâteau
5 large eggs
9 ounces bittersweet chocolate, coarsely chopped
1 cup of sugar
5 tablespoons unsalted butter, cut into chunks
2 tablespoons coffee or water
1/3 cup all-purpose flour
Pinch of salt
For the Glaze (optional)
4 ounces bittersweet chocolate, coarsely chopped
½ cup heavy cream
2 teaspoons light corn syrup
Getting Ready:
Center a rack in the oven and preheat the oven to 350 degrees F.  Butter a 9-inch springform pan, line the bottom with parchment paper, butter the paper, dust the inside of the pan with flour and tap out the excess.  Place the pan on a baking sheet lined with parchment or a silicone mat.
Separate the eggs, putting the whites in a mixer bowl or other large bowl and the yolks in a small bowl.
Set a heatproof bowl over a saucepan of simmering water and add the chocolate, sugar butter and coffee.  Stir occasionally until the chocolate and butter are melted; the sugar may still be grainy, and that's fine.  Transfer the bowl to the counter and let the mixture sit for 3 minutes.
Using a rubber spatula, stir in the yolks one by one, then fold in the flour.
Working with the whisk attachment of the mixer or a hand mixer, beat the egg whites with the pinch of salt until they hold firm, but glossy peaks.  Using the spatula, stir about one quarter of the beaten whites into the batter, then gently fold in the rest.  Scrape the butter into the pan and jiggle the pan from side to side a couple of times to even the batter.
Bake for 35 to 45 minutes, or until the cake has risen evenly (it might rise around the edges and you'll think it's done, but give it a few minutes more, and the center will puff too) and the top has firmed (it will probably be cracked) and doesn't shimmy when tapped; a thin knife inserted into the center should come out just slightly streaked with chocolate.  Transfer the pan to a cooling rack and let the cake rest for 5 to 10 minutes.
Run a blunt knife gently around the edges of the cake and remove the sides of the pan.  Carefully turn the cake over onto a rack and remove the pan bottom and the parchment paper.  Invert the cake onto another rack and cool to room temperature right side up.  As the cake cools, it may sink.
To Make the Optional Glaze:
First, turn the cooled cake over onto another rack so you'll be glazing the flat bottom, and place the rack over a baking sheet lined with parchment or wax paper to catch any drips.
Put the chocolate in a small heatproof bowl.
Melt the chocolate over a pan of simmering water or in a microwave oven – the chocolate should be just melted and only warm, not hot.  Meanwhile, bring the cream to a boil in a small sauce pan.  Pour the hot cream over the chocolate and stir very gently with a rubber spatula until the mixture is smooth and shiny.  Stir in the corn syrup.
Pour the glaze over the cake and smooth the top with a long metal icing spatula.  Don't worry if the glaze drips unevenly down the sides of the cake – it will just add to its charms.  Allow the glaze to set at room temperature or, if you're impatient, slip the cake into the refrigerator for about 20 minutes.  If the glaze dulls in the fridge, just give it a little gentle heat from a hairdryer.
These cupcakes really seemed to need cream cheese frosting, but it was too same ol' for the roll I was on. A package of of Neufchâtel, a half cup of low fat plain yogurt, and a half cup of confectioners sugar whipped up into a cream that isn't as firm as usual frosting. The chocolate is a half bar of semi sweet, softened and whipped into the cream. There was no shortage of approval from Himself. The best part was the cake in his judging, and he was very happy that the texture was right for the cupcake to not stick to the wrapper. Losing any cake to the paper is a pet peeve of his.
Always been a coward when it comes to trying to make up my own baking recipes, this is the first time I've tried. *chases cowardice out the door* 
 When D and I move, we're planning to go out in the country where we both feel more comfortable. A lot of what we're working towards is self sustainability, and a more rustic lifestyle. Healthier living is also our goal, and the two together got me to thinking about cupcakes and what sort of things I might be making. This recipe requires no gadgets at all, the coffee is grounds dumped into a pot and boiled, then strained to get the grounds out. It's very strong, which is what you wnt it to be for this recipe. The sugar is less because I was looking for something that wasn't super sweet, I get sick of all the sweet after a few bites. The whole wheat is needed because I'll eventually be grinding my own, and the buttermilk really gives it a sugar cutting kick and tender crumb. To be honest, I was taken aback by how fluffy and moist they are! The eggs that I used are powdered whole eggs, very convenient for storing and cost effective when you don't have your own chickens. They ain't frosted yet, I'm working on what an appropriately rural and health conscious option would be.
The pics are to show the crumb.
If you're a fan of a more bittersweet chocolate experience, give this little hicks a try!
Boondocks Cupcakes
1 c. white sugar
3/4 cups all-purpose flour
1 c. whole wheat pastry flour (whole wheat flour is fine)
1  cup unsweetened cocoa powder
1 1/2 tsp. baking powder
1 1/2 tsp. baking soda
1 tsp. salt
2 eggs
1 c. buttermilk 
1/2 c. canola oil
1 c. boiling coffee
Mix the dry ingrediants together, then dump in the eggs, buttermilk, and oil. Whisk together, then pour in the cup of hot coffee. Whisk until smooth, the batter will be on the thin side. Pour into prepared cake pans, or cupcake pans. Bake at 350 F for 20 minutes.
The Black And White Cake ain't, let me start out by making that clear. This is the story instead of a Black And Pink Cake. Everybody else's look so nice, I had to make myself post this poor failure.
 It started out so well, the little pink cake pans were floured and parchmented for the first time (I'd never used the paper before), the bowls were lined up and shining. Everything was shaping up to be a simple, lovely day of baking and frosting. Oh sure, the white chocolate gave me pause as I remembered my early childhood hatred of the stuff but I didn't let it bug me.                           
The batter whipped up very nicely, thick and fluffy. I didn't even try to speed up the mixing process, despite my mutterings about having to do things the fancy, uppity way with each addition carefully timed. The ingredients seemed to my uneducated self an awful lot like a basic ol' buttermilk cake, but a look at the picture reassured me that we were making fancy pants, high falutin' food in the kitchen today!
 Like a good girl, I avoided opening the oven to check on the cakes. They were doing fine in there, surely that beautifully luscious batter wouldn't be having any problems! The timer went off, and I pulled out… pancakes. Now, it's entirely possible that I'm too used to the fluffy cakes and without proper warning panicked over much. They seemed so flat, so dense though that I quickly tossed them to the side and tried again! The batter was perfect, I counted the seconds between adding eggs with a quiet whisper and slid the cakes into the oven…
Pancakes. There is no other word to describe them but pancakes. I knew it wasn't the ingredients, the baking powder and baking soda are brand new and made everything else they've touched light and fluffy! Why now, why these poor little cakes? A quick bite of the earlier batch confirmed what I had suspected early. Ol' buttermilk cakes. Dense and crumbly, the kind of cakes you serve folk when company ain't coming. Tasty to be sure, but not a whiff of white napkins and crooked pinkies to be heard of!
Resigned to the flat little things, I started in on the chocolate cream. This was to be the redeeming touch of sophistication, and I threw myself into the unfamiliar task without fear. What could be more charming and suave then a lovely bowl of… pudding? The stuff looked like cooked chocolate pudding. Dismayed, I swiped a pinky finger across the spatula, and sure enough it tasted just like a comfy lick of homey chocolate pudding.
Right. An ol' buttermilk cake with chocolate pudding on it. Mind you, I ain't got no objections to that combination. It's a favourite of mine, but there are a lot quicker ways to accomplish it without the time consuming steps or the pricier ingredient list.
The white chocolate cream was the last hope of this being anything resembling fancy. Y'all ever really hated something as a kid, and then outgrew it later? Yeah… that didn't happen here. From the first whiff of the warm white chocolate, to the cautious lick of the spoon, every fiber of my being was trying to scream and run from the vile stuff. After a few attempts to get near it, I groaned (and did *not* cuss out loud thank you very much) and threw the whole mess in the trash. To make up for it, I whipped up some more whipped cream, and boiled down some fresh strawberries and sugar into a sauce to fold in. It was very tasty, but obviously not sturdy like the original.
The Black And Pink Cake. After all the hassle, I served it to D and his mom for dinner. After explaining why it didn't work out, his mom (bless her) laughed and said she was happy it didn't because she doesn't care for white chocolate at all. It was a tasty cake, even if that night I wasn't it biggest fan from having too many hopeful expectations about it.
Last night, I grabbed a slice before I was gonna throw it out this morning. It had been hanging around since Saturday, and it wasn't gonna be good by the next day so I wanted to give it one more chance. Very tasty! The cream had sunk into the cake more, and everything was much moister and blended. Then again, ain't everything tastier in a middle of the night refrigerator raid?
Black and White Chocolate Cake
For the cake:
2 cups cake flour
2 tsp baking powder
1/8 tsp baking soda
1/4 tsp salt
1 1/4 (10 Tbsp) unsalted butter, at room temp
1 cup sugar
3 large eggs
1 large egg yolk
1 tsp vanilla extract
3/4 cup buttermilk
For the dark chocolatecream:
2 cups whole milk
4 large egg yolks
6 Tbsp sugar
3 Tbsp corstarch, sifted
1/4 tsp salt
7 oz. bittersweet chocolate, melted
2 1/2 Tbsp unsalted butter, cut into 5 pieces, at room temp
for the White chocolatewhipped cream:
6 oz. premium quality white chocolate
1 1/2 cups heavy cream
Getting ready: Center a rack in the oven and preheat the oven to 350 degrees F. Butter two 9X2 inch round cake pans, dust the insides with flour, tap out the excess and line the bottoms of the pans with parchment or wax paper. Put the pans on a baking sheet.
To make the cake: Sift together the cake flour, baking powder, baking sodaand sal t.
Working with a stand mixer in a large bowl, beat the butter on medium speed until soft and creamy. Add the sugar and beat for another 3 minutes. Add the eggs one by one, and then the yolk, beating for 1 minutes after each addition. Beat in the vanilla; don't be concerned if the mixture looks curdled. Reduce the mixer speed to low and add the dry ingredients alternately with the buttermilk, adding the dry ingredients in 3 additions and the milk in 2 (begin and end with the dry ingredients); scrape down the sides of the bowl as needed and mix only until the ingredients disappear into the batter. Divide the batter evenly between the two pans and smooth the tops with a rubber spatula.
Bake for 28-30 minutes, rotating the pans at the midway point. When fully baked, the cakes will be golden and springy to the touch and a thin knife inserted into the centers will come out clean. Transfer the cakes to a rack and cool for about 5 minutes, then unmmold, remove the paper and invert to cool to room temperature right side up on the rack.
To make the dark chocolatecream: Bring the milk to a boil. Meanwhile, in a large heavy-bottomed saucepan, whisk the egg yolk with the sugar, cornstarch and salt until thick and well blended. Whisking without stopping, drizzle in about 1/4 cup of the hot milk-this will temper, or warm, the yolks so they won't curdle-then, still whisking, add the remainder of the milk in a steady stream. Put the pan over meduim heat and, whisking vigorously, constantly and thoroughly (make sure to get into the edges of the pan), bring the mixture to a boil. Keep at a boil, still whisking, for 1-2 minutes. Remove the pan from the heat.
Whisk in the melted chocolate, and let stand for 5 minutes. Then whisk in the pieces of butter, stirring until they are fully incorporated and the chocolate cream is smooth and silky. Press a piece of plastic wrapagainst the surface of the cream to create and airtight seal and refrigerate the cream until chilled, or for up to 3 days. Or, if you want to coool the cream quickly, put the bowl with a cream into a larger bowl filled with ice cubes and cold water and stir the cream occasionally until it is thoroughly chilled, about 20 minutes.
To make the white chocolate whipped cream: Put the white chocolate in a heat proof bowl and put the bowl over a saucepan of gently simmering water. Stir frequently to melt the chocolate evenly. Meanwhile, bring 1/2 cup of the heavy cream to a boil.
When the white chocolateis melted, remove the bowl from the pan. Pour the hot cream into the melted chocolate and let it sit for a minute. Using a small spatula, stir the chocolate gently until it is smooth. Let it sit on the counter until it reaches room temperature-it can't be the least warm when you add it to the whipped cream.
Working with the stand mixer with the whisk attachment or with a hand mixer in a large bowl, beat the remaining 1 cup of heavy cream only unti l it holds the softest peaks. Turn the machine to high, add the cooled white chocolate all at once and continue to beat until the whipped cream holds firm peaks. Turn the whipped cream into a bowl, press a piece of plastic wrap gently against the surface to create an airtight seal and refrigerate for at least 2 hours, or up to 6 hours.
To assemble the cake: If the tops of the cake layers have crowned, use a long serrated knife and a gentle sawing motion to even them. Slice each layer horizontally in half. Place on layer cut side down on a cardboard cake round or on a cake plate protected by strips of wax or parchment.
Remove the dark and white chocolate creams from the refrigerator and whisk each of them vigorously to loosen and smooth them. With a long metal icing spatula, spread enough dark chocolate cream (about 1 cup) over the cake layer to cover it completely. Top the cream with another cake layer, cut side up, and cover this layer with white chocolatewhipped cr eam, making the white layer about the same thickness as the dark layer. Cover with a third layer, cut side up, and cover with another cup or so of the dark chocolate cream. (You'll have some dark chocolate cream left over) Top with the final layer of cake, cut side down, and frost the sides and top with the remaining white chocolate whipped cream. Decorate with chocolate shaving or curls, if you wish.
Refrigerate for at least 3 hours, or overnight.
It all started off well, there was confidence in my stride and a spring in my step as I marched into the kitchen. "Who needs cook books?" I announced, grabbing things out of the fridge with abandon as I set out to make a healthy, tasty meal from what was laying around. Canned salmon, leafy greens, potato flakes (that's right y'all, I love instant potato flakes and keep them around so there), some corn on the cob all happily jumped in bowls and pans with the sort of cheerful smiles you like in your supper ingredients. The salmon patties are fried in a very small amount of olive oil, cooked slowly over a low medium heat so they get nice and crunchy without needing lots of hot oil. The recipe below is close to what I did, it's not a very exact thing so whatever you like will work. The corn on the cob was plain old boiled, and the salad… Ahhh, yum!
It's simple, but it was perfect. A few leaves of romaine, a few leaves of spinach, walnuts, cranberries, golden raisins, green onions, and pieces of
avocado tossed with Paula Deen's Vidalia Onion And Poppy Seed dressing. A little flax seed sprinkled over the whole thing, and it was ready to serve. It was the kind of salad you end up being sad when it's gone, and the main course starts feeling neglected. Fortunately, those little fishies made a come back with style!
1 can of salmon, three green onions chopped, seven Ritz crackers crushed up, somewhere between a half cup and a cup of instant mashed potato flakes, some dill, some pepper, and two eggs. Mix it all together, make small patties, and fry them in a little olive oil for a while on each side until they're crisp and golden to dark brown. Very tasty.
Then came the world's ugliest cake. After dinner, D and me got a sweet craving and I went rummaging. There was a mocha cake in the fridge, a batter I'd been experimenting with and never ended up putting together and frosting. Feeling lazy, I grabbed a can of Duncan Hines chocolate frosting out of the fridge as well and sliced up some strawberries. The cake was too thin on the outside, so I cut circles out of the middle and sliced them in half to make four layers. The frosting was too cold, the cake was moist from the fridge and when I tried to frost it the whole thing fell apart! Stuck it together anyway.The strawberries went between each layer on top of the frosting.
Is that not the ugliest cake you've ever seen? This was after it slid around and fell over half way. It was so tasty!